You are here
Best for Betting Favorites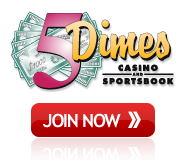 Best NFL Sportsbook for Betting Favorites is 5Dimes.com
While Bodog is universally accepted as one of the best NFL sportsbooks for betting longshots, 5Dimes.com gets the nod as the best place to wager in favourites. The reasons are many and simple.
Fact: People like betting on favorites – that doesn't mean you have to ignore the price.
Imagine going to Target to buy an iPod. Their price is $200. Across the street is a Walmart. The identical iPod with identical warranty, same color and everything is $180. Does it make sense to pay 10% more? Maybe if you really like Target or really don't like Walmart.
But that is the situation – your bet on the Cowboys is a product. One store gives it to you for $110, while the other charges $103. Same bet, same line, different price.
Fact: Often times, the favorite is the best bet – that doesn't mean you should overpay for the bet.
In some cases, the best NFL sportsbook for betting favorites will give you a half-point edge. You want to wager the Cowboys. One sportsbook has them at -7. The other (5Dimes.com) has them at -6.5. That is a better line on the chalk.
5Dimes.com goes further and even offers better price on the bet by offering lower 'juice.' What the heck does that mean? Juice is another word for commission – you typically pay 10% commission to the sportsbook for booking the action. So if you want to bet $10 on the Cowboys, you actually have to risk $11. The extra dollar is the 10% juice. At 5Dimes.com, that juice may be 5% or even 3%. Again, does this make a huge difference on a $10 wager? No, it's just a few cents.
But on a $100 bet, it's $5 or $7 in savings. Over the course of a weekend or a full season, that can really add up. So when betting NFL chalk, it's sites like 5Dimes.com where your best value typically lives.
Honorable Mention: Bet365 operates in near lockstep with 5Dimes in terms of sharp lines on favourites. They are very close and both serve as solid 'outs' (aka a place to wager) for betting chalk.
Honorable Mention: For international clients, the leader in this area is PinnacleSports.com (however they left the US market in 2006 and focusing on Europe and Asia). Their value dwarfs even 5Dimes and Bovada.
Ready to Start Wagering? - Click Here to Join Now!